Located on the East Canon Complex, the Canon Minimum Centers (CMC) comprises two geographically separate Level II facilities, Arrowhead Correctional Center (ACC) and Four Mile Correctional Center (FMCC) which operate under one administration.
Opened in 1983, FMCC is a Level II, Minimum Restricted Facility housing 521 Inmates. FMCC strives to ensure a safe and secure environment for the protection of the public, DOC employees, contract workers, volunteers, and Inmates while providing skilled, meaningful programs, training, and work assignments for Inmates in preparation for successful return to society.
FMCC offers a wide range of programming designed to prepare Inmates for re-entry into society including academic and specialized vocational training as well as numerous other life-skill opportunities. Specialized vocational programs at FMCC include the Gladiator Program instructed by specialized iron workers of the National and State Iron Workers Union, CDL Operating Training program, HVAC and Electrical Systems. The primary employment of FMCC Inmates supports the Canon Warehouse and Correctional Industries operations such as the Dairy, K9, Heavy Equipment, WHIP, CI Food Service and Grounds, and Housekeeping.
Warden Stephanie Sandoval

Switchboard: 719-269-5601
Mailing Address:
PO BOX 300
Canon City, CO. 81215-0300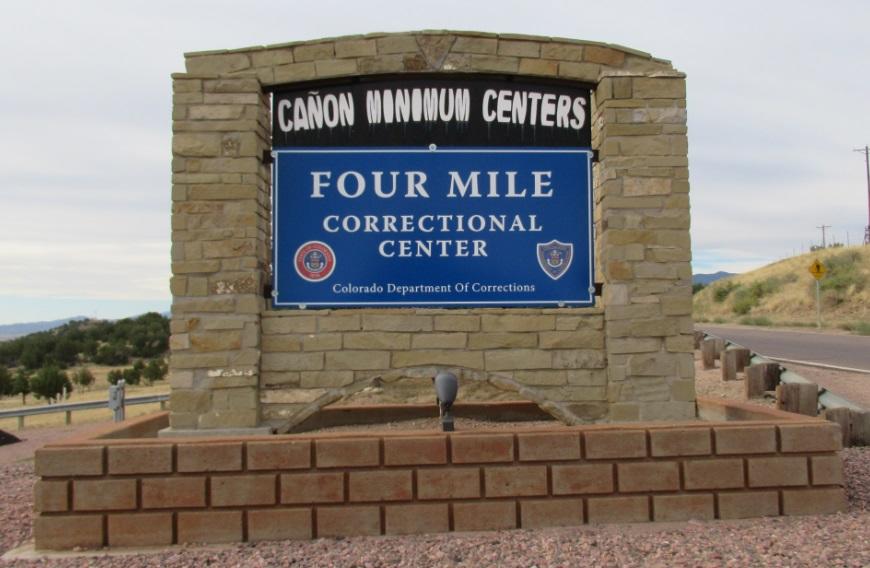 Visiting Days and Hours

FMCC provides offenders with visiting opportunities seven days per week through Video Visiting or pre-approved Special Visits. All FMCC visits are by appointment only and must be scheduled a week in advance. Any exceptions to this rule must be preapproved.

Regular in-person visiting is conducted on Friday, Saturday, and Sunday from 10:30 AM to 4:30 PM at each Center. Visitors may request multiple visits on Friday/Saturday or Friday/Sunday but cannot visit on both Saturday/Sunday.
 

Visiting Appointments

FMCC Visiting appointments may be made by email to DOC_ecc-visiting@state.co.us or by calling the East Canon Complex Visiting Center at (719) 269-5630 between the hours of 7:00 AM. and 5:00 PM. Thursday through Monday.

 Requests for a Special Visit (visit by a person whose name is not on an offender's approved visiting list or other special situations including extended hours/additional days) require prior approval and may be initiated by contacting the offender's Case Manager at least 10 days in advance of the visit.

Where/How to submit visiting applications

Visiting Applications can be found HERE

Applications can be submitted at:

Who to contact if visiting has been denied

In the instance a visit is denied or terminated for cause, the visitor will be advised of the reasons for such action, and the CMC Warden will review the situation and make a determination. The visitor may provide, in writing, any information deemed pertinent for the Warden's consideration during the review process. The mailing address is Canon Minimum Centers, Attn: Warden, PO Box 300, Canon City, CO 81215. Visitors may also call (719) 269-5603 for an email address.

ECC Visiting Center - Directions

All visitors for FMCC offenders will register at the East Canon Complex Visiting Center according to the scheduled check-in time. Once processed, visitors will be seated in the south area of the Visiting Center to await provided transportation to the respective Center for the visit. Transportation between the East Canon Complex Visiting Center and FMCC Visiting Rooms will be made available throughout the visiting day.

Directions to the East Canon Complex Visiting Center: Travel west toward Canon City on Highway 50. The East Canon Complex Visiting Center is located 1/8 mile off of Highway 50 on the south side approximately two (2) miles east of Canon City, between mile markers 283 and 284.