The Food Service and Laundry Program staff:
Works in collaboration with the CDOC Education team to facilitate apprenticeship and industry training that is dedicated to providing inmates with work opportunities to help them develop everyday tangible work skills that will help them succeed when they transition back out to society.

Works with Facilities Management Services to identify need equipment replacement, new construction or remodeling needs and infrastructure repairs needed for our food service and laundry operations. 

Monitor and ensure CDOC facilities maintain proper collection and recycling of waste materials to follow all state and federal regulations to ensure we protect our environment for future Coloradoans.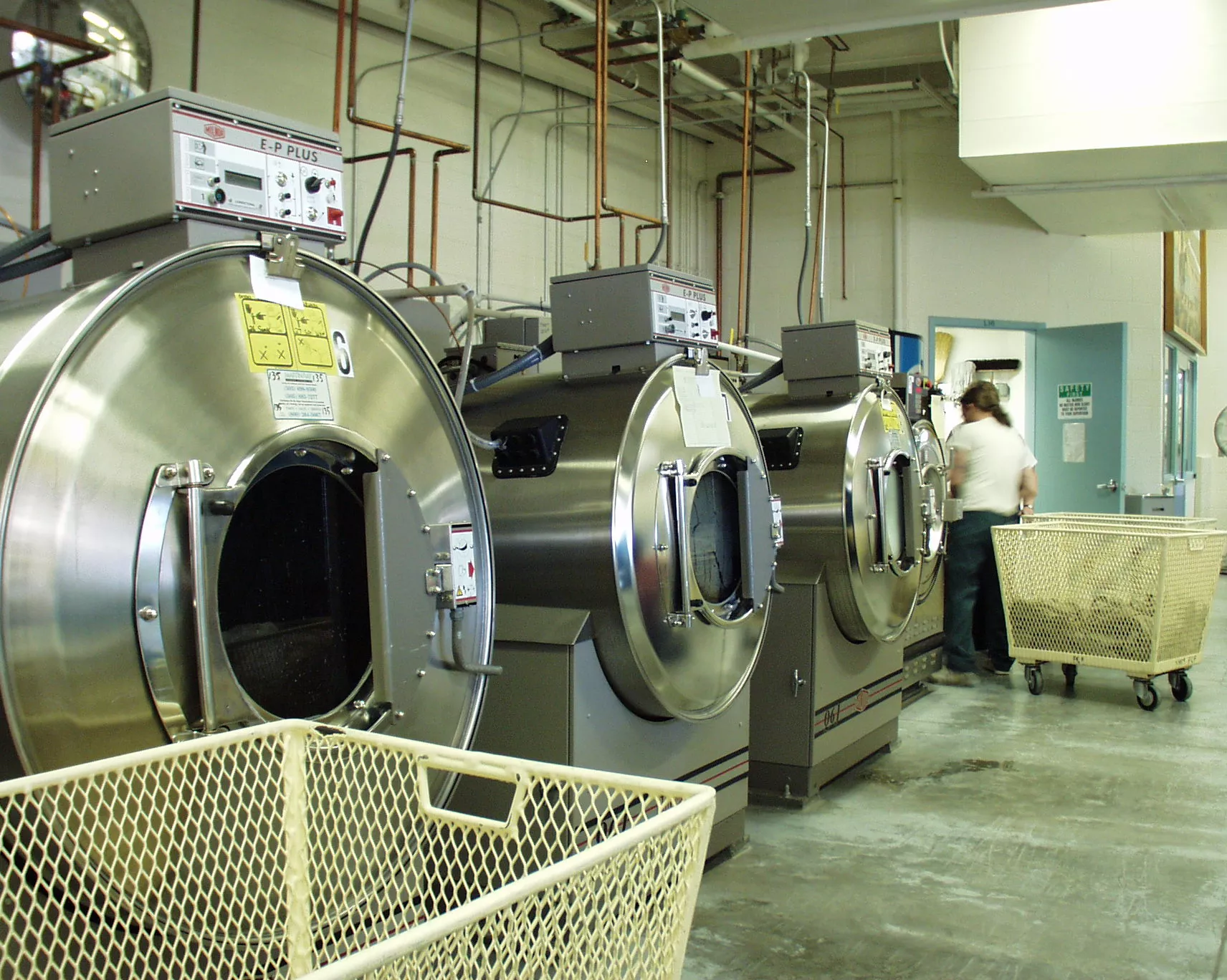 Laundry Program Head Quarters Team
Provides support and professional develop for personnel involved in the laundry and textile care at the facilities.
Dedicated to providing inmates with work opportunities to help them develop everyday work skills that will help them succeed when they transition back out to society.
Provides direction on hygiene and infection prevention solutions to ensure our facilities are safe for today as well as tomorrow.
Introduces innovations aimed at reducing cost and providing a high quality product while striving to deliver services with optimal efficiency.
Monitors costs, develops measurable outcomes and goals for all daily laundry operations. 
Tracks all clothing issued to inmates, ensures all regulatory standards are followed and continues to identify effective ways to control costs and reduce contraband.
Works with partner vendors to develop specifications, efficiencies and quality standards.
Conducts research, testing and evaluation on clothing fabrics and footwear.
Food Services Headquarters Team
The DOC Food Service program also:
Supports facility operations by providing inmates with nutritious, meals prepared in a safe, secure, and controlled environment.

In addition to the regular menu the dietitians develop modified diets to meet medical and religious needs. There are over a hundred diets the staff monitor, update and modify.

The CDOC menu is reviewed annually and takes into consideration feedback on inmate likes/dislikes and kitchen staff input while meeting national guidelines on nutrition.

The CDOC menu is on a four-week cycle that enables facilities and warehouses to forecast food needs quarterly based on the average facility populations.

The dietitians are responsible for assessing inmates' nutrition care plans for various health conditions. In addition, the registered dietitian (RD) team supplies inmates with nutritional education through means of one-on-one sessions, group sessions and handouts. Some of the educational topics are Pre-Release Eating on a Budget and SNAP (the food stamp program), annual diabetes education, and weight management.

The dietitians are part of the inmates' health care team and collaborate with clinical staff to provide consistent cohesive medical care.

Aside from teaching the inmates, the RD team teaches the food service staff and inmates how to prepare modified diet textures, food allergies, and other dietary restrictions. 

The RD team provides individual consultations, group trainings, and supports staff wellness programs.

The food service team works with other areas in CDOC such as with the warehouse staff and purchasing to identify specifications of all food items to meet cost, nutrition and taste of all food products which includes evaluating all new products and researching other food item options while remaining within budgetary parameters.  When a new vendor introduces a product it is evaluated for nutrition, then samples are sent to test for palatability, preparation and appearance. 

The food services team continually test recipes and make needed adjustments to recipes to standardize how meals are prepared in facilities. 

Food Services identifies needed training for staff and inmates and ensures CDOC facilities are meeting national and state regulations. CDOC currently provides ServSafe training for staff and inmates to ensure food safety practices are followed. 

The food services team follows every aspect of the production of meals from the procurement of raw resources to the disposal of waste.

Some other areas the team works with are the budget office, human resources, correctional industries and various outside vendors.