#FFFFFF
In 1993, the Colorado State Penitentiary (CSP) was completed and was  designated as a level V facility, housing inmates with a variety of custody  levels: Medium, Restrictive Housing – Maximum Security, Close Custody  Management Control Unit, Close Custody Transition, Temporary General  Population Hold, and Incentive Pod. 
CSP construction occurred in two phases. Phase I was completed in 1993  with a capacity of 504 inmates. Phase II was completed in 1998 adding  252 beds to reach the current capacity of 756. inmates are housed in  individual cells located in six separate housing units. Each housing unit  consists of eight separate day halls containing either 15 or 16 cells in each  day hall for a total of 126 cells in each housing unit. Each day hall also has  two secure exercise rooms and two secure showers.  
In November of 2016 the administration and operation of CCF/CSP were  separated into two different facilities with their own management teams. 
CSP uses the centralized warehouse, armory, range and visitor processing  services provided on the East Canon City Prison Complex. The support  services work force for CSP and are supplied by offender workers living in  the Incentive Pod in D Unit at CSP.
Warden Stephanie Sandoval
COLORADO STATE PENITENTIARY
PO BOX 777
Canon City, CO. 81215-0777
 
Front Lobby - 719-269-5120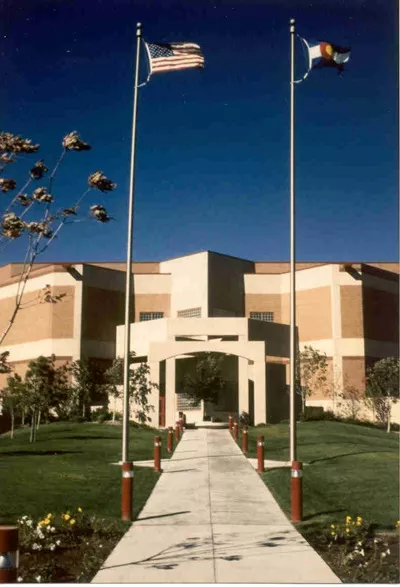 #FFFFFF
Visiting Days and Hours

Effective August 15th CSP will be moving to a modified visiting schedule

There will be NO in-person visits on Saturdays and Sundays until further notice

CCTU and Incentive visits will now be on Fridays and will rotate between the time frames as listed below.

MCU visits will continue to be on Thursdays with the following time frames 8:30-10:30 and 12:30-2:30

Please view the current schedule HERE 

Request for  special visit should be submitted to the inmate's Case Manager at least ten (10) working days in advance. An inmate's status level will determine his number of  allowable visits.  

Visiting Appointments

CSP Visiting program requires approved visitors to arrange visits by appointment with CSP Visiting Officer at (719)269-5252. Appointments are required for all visits. 


Where/How to submit visiting applications

Visiting Applications can be found HERE

Completed applications should be mailed into the facility at P.O. Box 777 Canon City, CO 81215 or by email to CSP visiting doc_csp_visiting@state.co.us
Who to contact if visiting is denied

Applicants that have been denied or seeking reconsideration, please contact CSP visiting supervisor James Johnson at james.johnson@state.co.us